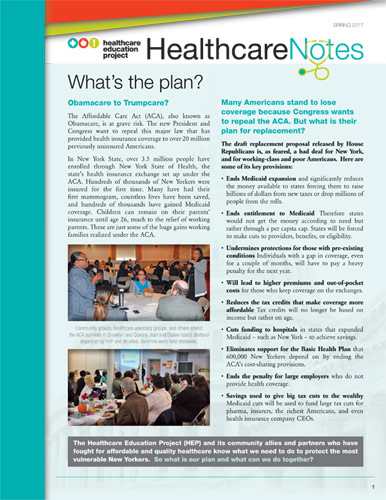 Here's what's inside…
What's the plan? Obamacare to Trumpcare?
Many Americans stand to lose coverage because Congress wants to repeal the ACA.  But what is their plan for replacement and how will it affect New Yorkers?
What's our plan?
HEP and its allies know what we should do to protect the most vulnerable New Yorkers.  What is our plan and what can we do together?
HEP on the Hill
HEP led a delegation of 1199SEIU members to meet with their Congressional Representatives in D.C.
Get Screened. Don't Wait!
Find free breast cancer screenings near you. HEP continues its breast cancer awareness campaign around the state.
How to use your health insurance.
Watch these videos
Watch these step-by-step guides that tell you how to find a suitable health plan and help you understand the basic terms of health insurance.