Holiday During COVID: How to Celebrate Responsibly and Stay Safe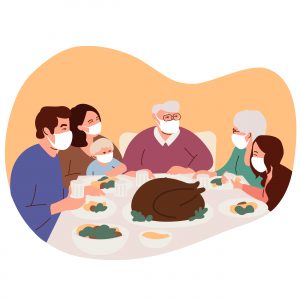 Holidays are a time to gather with friends and family, enjoy meals together, take a much-needed break from work, and look forward to the New Year.
However, this year things are different. The pandemic we have been battling for months has only gotten worse recently, putting more and more Americans at risk for getting infected.
If you are celebrating the holidays with loved ones, make sure you follow the tips below to keep yourself and those you care about as safe as possible.
Large, indoor gatherings are dangerous, but small indoor gatherings can be dangerous too.  (New York has restricted all gatherings at private homes to no more than 10 people to limit "living room spread")
Thanksgiving dinners are safest when restricted to just your household.
Celebrate with those outside of your household virtually, through FaceTime or Zoom or Skype.
Everyone must be COVID tested prior to arriving at your residence.
Be outside as much as possible, as the virus is less likely to spread than when in an enclosed space.
If you must be indoors, open windows for better ventilation.
Maintain social distancing at all times Stay six feet away from everyone you're celebrating with. Do not assume your family and friends are virus free.
Keep your mask on!
Do not share eating utensils.
Most importantly, as difficult as it is for all of us, limit your travel as much as you can. Planes, trains, and other forms of public transportation are easy ways to be exposed to the virus and therefore expose whoever you are visiting.
These are safety measures but there is no guarantee that your gathering will not lead to someone falling sick with COVID.  Think about that. Remember that by next Thanksgiving things will likely be a whole lot different. If you want to stay healthy for next year, be safe this year.